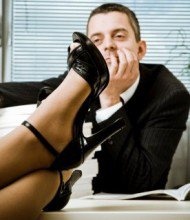 When a lawyer and a client develop a relationship that's more than a professional one, can they have sex? Can you date your lawyer? When you're a lawyer, can you date your client? Can you have sex with your client, whether or not you're dating?
The rules are different whether or not it's a divorce case. In a divorce case, the lawyer and the client would have to wait until the case is over before they have sex without the lawyer getting in trouble when the Ethics Committee finds out. And more likely than not, they will find out, when the partner or the spouse reports the attorney.
The legal profession is self-governed by the standards and rules of the American Bar Association and local bar associations. A New York lawyer's conduct is primarily regulated by the New York State Bar's New York Lawyer's Code of Professional Responsibility. The conduct of lawyers is held to a higher standard of ethics and lawyers are subject to reprimands, disbarment and public censure if they violate the rules.
A lawyer cannot have an intimate sexual relationship with a client that the lawyer is currently representing. However, there are limited exceptions to the rule for a sexual relationship between a lawyer and spouse and ongoing consensual sexual relationships that predate the initiation of the lawyer-client relationship [C. DR 5-111 [1200.29-a] (B)]. It is permissible for a lawyer to have sex with a former client.
Professional Standards of Conduct
The professional standards of conduct for New York lawyers under DR5-111[§1200.29-a], pertaining to sexual relations with a client include the following:
A. 'Sexual relations' means sexual intercourse or the touching of an intimate part of another person for the purpose of sexual arousal, sexual gratification, or sexual abuse.
B. A lawyer shall not:
Require or demand sexual relations with a client or third party incident to or as a condition of any professional representation.
Employ coercion, intimidation, or undue influence in entering into sexual relations with a client.
In domestic relations matters, enter into sexual relations with a client during the course of the lawyer's representation of the client.
Where a lawyer in a firm has sexual relations with a client but does not participate in the representation of that client, the lawyers in the firm shall not be subject to discipline under this rule solely because of the occurrence of such sexual relations.
Disciplinary Action for Violating Ethics and Conduct Rules
A New York lawyer is subject to disciplinary action by the local State Bar for misconduct or violation of ethics rules regarding the following, including having sex with a client, unless exempt as set forth above:
•    Violating or attempting to violate the New York Professional Rules of Conduct
•    Committing fraud, deceit, misrepresentation or other dishonest acts
•    Engaging in a criminal act
•    Engage in conduct that is considered prejudicial to the administration of justice;
•    Attempting to bribe or influence a government agency or official or witness
•    Knowingly assisting a judge or other court judicial officer in committing a violation of the judicial rules of conduct or other laws
Disciplinary action by the New York State bar against a lawyer who has been accused of or found to have violated the professional code of conduct and ethics may include:
•    Reprimands
•    Public censure
•    Suspension of a license to practice law in the State of New York
•    Disbarment, which is permanent denial to practice law in the State of New York
If you believe your New York lawyer has violated the New York Professional Rules of Conduct in connection with a New York estate matter or other legal matter, you may contact the New York State Bar for information on how to file a complaint.
Related Posts via Taxonomies