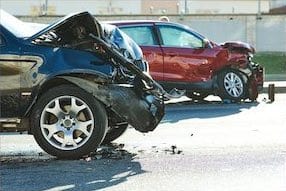 When you get into a car accident, do you need a car accident lawyer? If the only damage that occurred is property damage to your car, then you don't need a car accident lawyer. However, if you sustained serious physical injuries because of the car accident, you need to immediately consult with a car accident lawyer. Although a case should be filed within 3 years from the time of the accident, filing a case and gathering evidence earlier will strengthen your chances of proving your case of negligence against the party at fault and getting compensated for the injuries sustained due to the car accident.
Insurance Claims for Car Accident Injuries
New York is a no-fault insurance state. All persons who own a vehicle in New York are required to purchase auto insurance coverage. No-fault insurance (sometimes called personal injury protection insurance) in New York pays for damages resulting from a car accident, regardless of who is at fault, for as long as the damage is covered by the insurance policy, such as hospital and medical expenses, income losses resulting from the inability to work, and funeral expenses up to $50,000. No fault insurance generally doesn't cover theft or car damage. A claim may be filed with the insurance company covering the car where the person is an occupant, either as passenger or driver, or in cases of a pedestrian, with the insurance company of the vehicle that struck the pedestrian.
Motorcycles are excluded from no-fault benefits. In cases of accidents with motorcycles, a claim may be filed with any household family relative who has an auto policy at the time of the accident. If there is none, a claim may be filed with the Motor Vehicle Accident Indemnification Corporation (MVAIC).
When one's expenses resulting from the car accident exceed the limits provided by the no-fault insurance policy, one can claim from standard health insurance to pay for medical expenses, may also be eligible for federal social security disability benefits, and may sue the party responsible for the accident to cover costs not covered by the insurance policy.
Why get a car accident lawyer during this stage? Because the no-fault insurer will likely make a lowball offer, will downplay the injuries, or will not pay the full amount claimed. An experienced car accident lawyer will be able to adequately represent your interests to ensure that you are sufficiently compensated for the injuries, whether from the no-fault insurer or the negligent party's car insurance company.
Statute of Limitations
The statute of limitations for filing a claim with the no-fault insurer is 30 days from the time of the accident. If one's expenses exceed the limits provided by the no-fault insurance policy, the time limit in filing a case against the negligent party is 3 years from the date of the accident. The statutes of limitations should be strictly observed. It is important to remember the 3-year statute of limitations, even if one's claim is still pending before the insurance company. The 3-year statute of limitations is shortened to two years, in case death resulted from the car accident. The two-year period is counted from the time of death, in accordance with Estates, Powers, and Trusts Law § 5-4.2.
For example, John was driving his car in Manhattan with his friend, Michael, as passenger. While crossing an intersection when the light was green, John's car was hit by another car with a drunk driver, Robert, who was speeding and ran a red light. John and Michael sustained slight injuries, which required hospital expenses for both in the aggregate amount of $20,000. Should John and Michael get a car accident lawyer to file a case against Robert? In this case, since the claim is $20,000, well below the $50,000 no-fault insurance policy limit in New York, it is better for John and Michael to get a car accident lawyer to file a claim with the no-fault insurer of John's car.
Suppose in the above case that John and Michael did not consult a car accident lawyer and took 6 weeks before filing a claim with the no-fault insurer, is the no-fault insurer correct in denying their claim? Generally, yes, the no-fault insurer is correct in denying their claim because it was filed beyond the 30-day period to file a notice with the insurer of the car accident and the resulting injuries.
Suppose in that that case that it was Michael, the passenger, who sustained serious physical injuries. His hospital bills together with loss of income already reached $100,000 and counting. He filed a claim with the no-fault insurer of John's car and received $50,000. Since this is not enough to compensate him, can he file a case against John and the drunk driver to compensate him for the remaining balance of his expenses plus pain and suffering, emotional distress, and punitive damages? Although Michael's lawyer may file a case against both his friend, the driver John, and the drunk driver, Robert, a case for negligence will not prosper against his friend, John, if John was driving responsibly at the time of accident. Robert, however, may be held liable for damages incurred by Michael. Michael may file a third-party claim against Robert's car insurer under his liability insurance.
Filing a Claim or Case for Car Accidents
When one's injuries are severe enough to file a claim with the no-fault insurer or the liability insurer of the other at-fault party, it's important to remember to get as much documentation possible. This includes filing a police report, taking photos of the damages to the cars from all angles, taking videos, taking photos of injuries, keeping all receipts for medical expenses, getting medical reports from all healthcare providers, and listing all property damage and repair expenses. Remember the 3-year statute of limitations period, even while the claim with the insurance company is pending. Get a car accident lawyer to file a demand letter against the insurance companies. Your car accident lawyer will know how to present a strong case before your insurance company to ensure you will be compensated at the highest amount possible. Getting a car accident lawyer will also put the insurance companies in alert that you are serious about your claim and being compensated for your injuries.
Once a demand letter detailing the facts, circumstances, and the extent of injuries and medical expenses is sent, insurance companies will put in an offer, setting the stage for settlement. Your lawyer may counter-offer until both parties can reach an acceptable settlement amount for the pain and suffering you sustained.
Although lawyers generally charge per hour, most lawyers in personal injury claims will accept the case on contingent basis, which means they will receive 1/3 of any amount received.
If you are looking for a car accident lawyer or in need of legal assistance regarding the injuries you sustained due to a car accident, we, at the law offices of Albert Goodwin, are here for you. We have offices in New York, NY, Brooklyn, NY and Queens, NY. You can call us at 718-509-9774 or send us an email at attorneyalbertgoodwin@gmail.com.