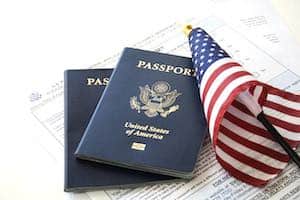 For most people around the world, immigrating to the United States is to live the American dream. Because of the complex laws on US immigration, the first step in immigrating to the United States is getting a good immigration lawyer.
Types of Visas
An immigration lawyer will tell you that there are generally two types of US visas: the immigrant and non-immigrant visa. Under each type of visa are several categories. Under US immigrant visas, there are two general categories: family-sponsored visas and employment-based visas. Under US non-immigrant visas, there are several categories, generally described using a letter and number (e.g., H-1B, H-2B, H-3, O, L, P, E, Q, R, TN, E-3), all of which refer to sections of the Immigration Act of 1990 that provide for said visa.
A non-immigrant visa holder can change to another non-immigrant visa category or extend the length of the visa within the maximum limits to stay in the United States. However, under certain conditions, non-immigrant visa holders can also be eligible to apply for permanent resident status. A good immigration lawyer will be able to advise you on the best route to take to get permanent residency.
Non-Immigrant Visas
The most common types of non-immigrant visas are visas from the visa waiver program, B-1 business visitor visa, B-2 tourist visitor visa, H-1B specialty occupations visa, H-2B temporary workers visa, H-3 trainee visa, E treaty trader and investor visa, L-1 intercompany transferee visa, O extraordinary ability visa, P performing artist visa, J exchange visitors visa, and F student visa. There is also a non-immigrant K-1 visa for fiancé/fiancees who seek to enter the United States to marry a US citizen.
As previously mentioned, you can adjust your status from a non-immigrant visa (i.e., B-1 or B-2 business or tourist visitor visa) to permanent resident status, depending on your personal circumstances. It is important to apply for the adjustment to permanent residency prior to the expiration of your non-immigrant visa. Otherwise, you will be staying in the United States illegally which could affect any application for permanent residency. It is always best to consult with an immigration lawyer to help you in the adjustment of your visa.
Immigrant Visas
Immigrant visas are used by persons who wish to enter the United States to live here permanently. After three to five years of residence, immigrant visa holders are eligible to apply for US citizenship. There are two general categories of immigrant visas: family-sponsored visas and employment-based visas.
Family-Sponsored Immigrant Visas
There are two types of family members eligible for family-sponsored visas: immediate relatives and preference immigrants. Immediate relatives are spouses of US citizens, minor and unmarried children of US citizens, parents of US citizens, and certain spouses of deceased US citizens. There is no limit to the number of immediate relatives who can go to the United States on immigrant visa.
Preference immigrants, on the other hand, are unmarried sons and daughters of US citizens over 21, spouses or children or unmarried sons or daughters (over 21) of permanent residents, married children of US citizens, and brothers or sisters of US citizens. Although preference immigrants can bring their spouse or children, there is an annual limit to the number of preference immigrants who can enter the United States. Because of this annual limit, there is a backlog of prospective immigrants under the preference category waiting to obtain the immigrant visa. This waiting time depends on the priority date, the date of the receipt of an immigrant petition. The priority date has to become current in order to enter the US to become a permanent resident. It is best to consult with an immigration lawyer to help you bring your family members to the United States.
Employment-Based Immigrant Visas
There are five preference categories for employment-based immigrant visas: priority workers (E1), professionals holding advanced degrees and persons of exceptional ability (E2), skilled workers, professionals, and unskilled workers (E3), certain special immigrants (E4), and immigrant investors (E5). All employment-based immigrant visas (except for the priority workers), require a labor certification from the Department of Labor, declaring that the employer has established that there are no qualified US workers willing and available to take the job under the appropriate wages and working conditions for which the noncitizen is needed.
Navigating US immigration laws to become an immigrant, a permanent resident, and eventually, a US citizen may be complicated, but not impossible. For this reason, consider discussing with an immigration lawyer your goals so the immigration lawyer can give you options on the paths you can take to attain your goals. Should you need assistance, we, at the law offices of Albert Goodwin, are here for you. We have offices in New York, NY, Brooklyn, NY and Queens, NY. You can call us at 718-509-9774 or send us an email at attorneyalbertgoodwin@gmail.com.