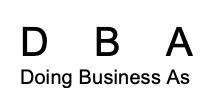 When starting a business, you might wonder what does DBA stand for and whether you need a DBA. DBA is short for "doing business as." Sometimes, businesses incorporate with a different name other than the name they are doing business as.
For example, the corporation that runs Burger King is not called Burger King Corporation. It is actually called Restaurant Brands International, Inc. (RBI). It operates three brands, Burger King, Tim Hortons, and Popeyes. For those restaurants that it actually owns, RBI needs to get a DBA certificate from the Department of State of the state where the restaurant is operating. For example, if RBI operates a Burger King in New York, it needs to apply for authority (if it's a foreign corporation) to operate in New York and a DBA Certificate to say RBI is operating in New York under the name "Burger King". If RBI grants a franchise to John, for example, to operate a Burger King in New York, John will create an LLC or corporation, such as ABC LLC, and will file a DBA Certificate stating that ABC LLC is operating in New York under the name of Burger King.
Dba certificate or business certificate
A DBA certificate is also known as a Certificate of Assumed Name. It can be filed together with the certificate of incorporation. Corporations, limited partnerships, and limited liability corporations use the DBA Certificate, filed with the Department of State. For sole proprietorships and general partnerships, a business certificate (similar to the certificate of assumed name) is filed with the county clerk.
If you are wondering what DBA stands for, considering establishing your own business, or trying to determine what legal structure is the best structure to operate your business in, we at the Law Offices of Albert Goodwin are here for you. We have offices in New York, NY, Brooklyn, NY and Queens, NY. You can call us at 718-509-9774 or send us an email at attorneyalbertgoodwin@gmail.com.