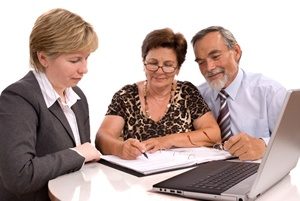 A person serving as a witness to a New York should not be someone who benefits from that will in any way, even indirectly. The law requires that a will must be signed by two or more competent witnesses over the age of 18.
There are some people that should not be used as witnesses. When a beneficiary is used as a witness, it creates a conflict of interest situation and voids the bequest. For this reason, it is the worst idea to use a beneficiary as a witness to a will because that heir's inheritance would be invalid, and the heir would then inherit nothing. It is also recommended that a witness to a will not be the attorney who prepared the will. This could also create a conflict of interest and can prevent the attorney from representing your estate after your death.
At the will execution ceremony, the witness must attest that the testator has declared the document to be the testator's last will. There are other specific qualification requirements to be a witness under New York Probate laws other than being over 18 years of age and competent. The testator must sign in the presence of the witnesses. It is also recommended that the witnesses sign in the presence of each other as well, although New York law does not require that they do. However, the second witness must sign within 30 days after the first witness has signed in order for the will to be valid. Should a witness be called to testify in a will contest matter after a decedent's death, the Will witness must be able to attest that the testator was mentally competent at the time of the execution of the will.
Please do not use this post if you are preparing your will yourself, as there are subtle issues involved that could make a difference between the will being valid and invalid. In order to make sure your will is valid, it is recommended that an experienced New York estate planning attorney prepare the will for you, and conduct and attend the signing ceremony to make sure that the will is properly signed and attested to under New York law. The attorney can explain the various provisions of the will to you and go over the New York probate process with you in case you have any concerns or questions. Having a valid will assures that your wishes will be carried out after your death and that your heirs will inherit your assets in the manner you have chosen.
If you wish to make a will with the assistance of a New York estate attorney, we at the Law Offices of Albert Goodwin are here for you. We have offices in New York, NY, Brooklyn, NY and Queens, NY. You can call us at 718-509-9774 or send us an email at [email protected].