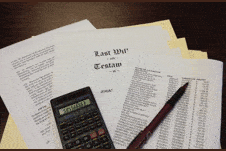 There are several ways to find out the probate status of a decedent's will in New York. If someone filed the will with the Surrogate's Court, then it is a matter of public record. By going down to the Court and paying a fee, you can request and obtain a copy of the probate file of the decedent. If you don't live in the area, you can hire a New York attorney to go to the Court to retrieve the file. The Court clerk may also be able to provide limited information over the telephone, such as the case number or hearing dates. You can also contact the attorney for the estate or the executor or personal representative to get more information.
If no one has filed the will with the Court, then it may be possible that the decedent did not have a will at all. The heirs and beneficiaries would have to ask the Court to appoint an administrator or personal representative to administer the estate. Property of the decedent would then pass to the beneficiaries or heirs according to New York succession laws. It would also be possible for the beneficiaries to agree to a different distribution than the legal default. Estates of people dying without a will are also of public records, and you can obtain a copy of a no-will file from the Surrogate's Court.
If the person who died had assets that were not required to pass through probate, then it may not be necessary for there to be a probate proceeding – their assets would pass to the beneficiaries and heirs outside of the probate. Assets that pass outside of probate are not of public record. Assets that pass outside of probate are typically assets that are held in joint ownership or have a designated beneficiary. Examples include real estate, bank, stock and other financial accounts, title to motor vehicles or other vessels, life insurance policies, 401(k) and different types of retirement accounts.  Property that a decedent transfers to a trust is passed to the beneficiaries of the decedent at the decedent's death outside of probate as well and are not of public record either.
You should consult a New York probate and estate attorney regarding New York probate matters. It is important to choose an attorney who is knowledgeable about the New York probate process, and can help you determine the New York probate status of a will as well as assist you with other probate matters.
Related Posts via Taxonomies