A notary public who is commissioned in New York State can act as notary public anywhere in New York State. For example, in New York City, a notary public can notarize signatures in all five boroughs even if they are qualified in only one county, i.e., New York County.
However, since only the county where the notary public qualified has their Official Character Card, only that county will have their signature on file. So, if a notary public's signature needs to be authenticated, only the county clerk where the notary public is qualified can certify the signature.
Although only a few people have the actual need, it is possible to register an Official Character Card with a clerk of more than one county.
To summarize, a New York notary public can act anywhere within the state. If you are registered in one county in New York, you can notarize in a  different county.
If you are having any problems, we at the Law Offices of Albert Goodwin are here for you. We have offices in New York, NY, Brooklyn, NY and Queens, NY. You can call us at 718-509-9774 or send us an email at attorneyalbertgoodwin@gmail.com.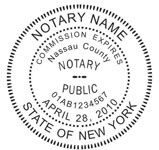 Related Posts via Taxonomies