The requirements for signing a will in New York are that you must sign the will in front of two witnesses and that your witnesses must also sign the will. If you wish to have more than two witnesses that are acceptable as well. Many times three witnesses are used in case one witness cannot be found later after the testator's death. All signatures must be original signatures. Typically at the will signing ceremony, the witness attests to the fact that the will-maker/testator has stated that the will is the testator's last will. It is recommended that both witnesses sign in the presence of each other as well, although the second witness can sign within 30 days.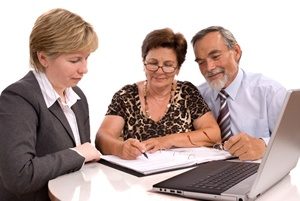 The testator should be mentally competent because the witness may be called to testify to this fact after the testator's death. A will that contains a self-proving clause avoids the requirement that the witness testify after the testator's death unless the will is contested, in which case the witnesses will be called to testify. A will that contains a self-providing clause should be notarized before a qualified New York notary and the witnesses should be present as well at the time of notarization.
Who Can Act as a Witness to a New York Will
A witness must be at least 18 years of age, should not be a party to the will such as a beneficiary, and should not be the lawyer who prepared the will. It is acceptable to use an employee of the lawyer who prepared the will as a witness though. The witness must also be of sound mind and competent. It is important to follow the will signing rules so that a will is not found invalid later. As an example, a beneficiary to a will should not sign because another interested party could try and contest the will later stating that there was a conflict of interest. When in doubt as to who should be a witness to a will, it is advisable to speak with a New York probate and estate attorney.
New York Probate and Estate Attorney
Since New York laws regarding wills are complicated, it is recommended that a New York attorney prepare a will on your behalf to make sure that the requirements are met under New York laws. The attorney can also assist with other estate planning documents such as a trust, health care directives and powers of attorney.
If you wish to speak to a New York estate attorney, call the Law Offices of Albert Goodwin at (212) 233-1233.
Law Offices of Albert Goodwin
Average rating:
0 reviews
Related Posts via Taxonomies