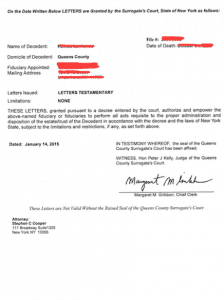 There are two components of letter of testamentary cost: the court fee and the attorney's fees. The court fee ranges from $45 to $1,250, depending on the gross value of the estate. The attorney's fees start at about $2,500 and can go up depending on the complexity of the case. The typical arrangement in our firm is to offer a flat fee of $2,500 and to charge $400 per hour for any work beyond seven hours.
The Estate Complications That Raise the Cost of a Letter of Testamentary
For an estate with routine complications, it can cost double the amount to get a letter of testamentary. You are looking at upwards of $5,000 because of the additional attorney's fees. Here are the routine complications you would typically encounter:
Serious Complications with an Even Higher Cost
For an estate with serious complications, it can cost tens of thousands of dollars in attorney's fees to get a letter of testamentary. Like we said before, even if an estate attorney initially offers a flat fee, the flat fee arrangement goes out the window once complications are involved. Here are the major complications that would significantly impact how much a letter of testamentary would cost:
The extra time and resource requirements of the estates with major complications increase the costs of the letter of testamentary. When you enter into a retainer agreement with the estate attorney representing you in obtaining letters of testamentary, the costs will be a part of the retainer agreement, and it will specify that the costs will increase in the event of complications.
Additional Legal Expenses After You Receive the Letter of Testamentary
Just because you received letters of testamentary, your legal expenses may not stop there. Here are some expenses that would increase the total cost of a letter of testamentary.
The document is actually called Letters of Testamentary, and it's not a letter – it's a court order. The confusion stems from the fact that Order used to be called Letter hundreds of years ago.
This article is meant to give you a bird's eye view of the factors involved. If you would like to get an estimate of how much does a letter of testamentary cost in your particular case, you can give us a call and we will be happy to provide you with an estimate. We at the Law Offices of Albert Goodwin are here for you. We have offices in New York, NY, Brooklyn, NY and Queens, NY. You can call us at 718-509-9774 or send us an email at attorneyalbertgoodwin@gmail.com.
Related Posts via Taxonomies