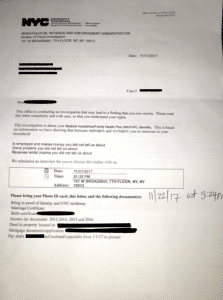 If you just received a bureau of fraud investigation HRA letter, you understandably have concerns. Here are the most frequently asked questions with answers based on our experience with New York Medicaid fraud and SNAP food stamp fraud investigations.
The bureau of fraud investigation HRA is investigating me, will I go to jail? HRA investigations can be escalated and referred to the district attorney's office by the HRA's investigator if they see a violation of the law. In most cases, we can resolve the case with the bureau of fraud investigation HRA without criminal liability. It is crucial to have a fraud defense attorney who is familiar with criminal investigations to increase your chances of a good defense.
Do I have to pay back the entire amount? In some cases, especially when the total amount is very high, and the beneficiary's eligibility is questionable but plausible, reducing the amount owed for money expended by the Department of Social Services for Medicaid, Child Health Plus or SNAP benefits may be possible. Some of the ways we do that are showing a period of eligibility. The letter can be an indication of what we are dealing with.
Is there a way to not pay back any benefits and to keep my services and benefits? If we can prove to the Department of Social Services that you were eligible in the first place, then it may be possible to avoid benefit payback, and it may be possible to keep your services and benefits. However, most investigated cases have a solid foundation and are difficult to challenge in a significant way.
Can I pay back the DSS HRA in installments? The investigation department's priority is to collect as much as they can with as much of it upfront as possible. It is possible in some cases to enter into an installment agreement, with assistance from an experienced attorney. It's easier to get low installments on Medicaid cases than on SNAP cases.
How much does it cost to hire an attorney to represent me during a Medicaid or SNAP food stamp investigation by bureau of fraud investigation HRA? The fee for a Medicaid fraud or food-stamp fraud attorney would depend on your situation, which will be explained in the letter or during a meeting with the HRA investigator.
Can I get benefits if my situation changed and I am now eligible even though I was not before? You can go to your local Medicaid or SNAP office and reapply if you have just become eligible, even if you were not eligible before.
If I do not reside in the household, can the department investigation still say that I do? If a person does not reside in the same household, he can still be considered by the Medicaid administration to be a part of the household and will be a target of a Medicaid and SNAP investigation process. We see the person not residing in the household receiving a letter from the HRA as well. There is an uphill battle ahead if he is
married to the mother of the children
if the father of the children
lists the household address on his tax returns
claims children or their mother as dependents
has his name on the deed, lease or the utility bills
or materially supports the family
We live together, but we form separate households, we are two different families, why is the Department of Social Services saying that we are in one household? Because the DSS/HRA in New York views everyone living in the household as being the same household, even if they people themselves don't consider themselves that way. The Medicaid administration would be especially concerned if the people in the house are related – let's say, grandmother or uncle. It's different if people are just roommates.
Is there a way to beat a Medicaid or SNAP fraud investigation? Read about the 9 ways of beating a Medicaid fraud investigation plus the 5 things you should never do in a New York City Medicaid fraud investigation. 
I got a letter from the bureau of fraud investigation HRA and it's unclear. What does it actually say? Here is the standard text of the letter in its entirety:
NYC Department of Social Services
Human Resources Administration
Office of Program Accountability
INVESTIGATION, REVENUE AND ENFORCEMENT ADMINISTRATION
Bureau of Fraud Investigation
375 Pearl Street, 22nd Floor, NY, NY 10038
Dear Sir or Madam:
This office is conducting an investigation that may lead to a finding that you owe money. Please read this letter completely and with care, so that you understand your rights.
This investigation is about your Supplemental Assistance Program (Snap), Medicaid or Child Health Plus (CHIP) Medical Assistance/Family Health Plus (MA/FHP) Benefits. This is based on information we have showing that you or someone in your household:
Did not report someone in your household
Did not report assets
Did not report income
Is employed and makes money you did not tell us about
Owns property you did not tell us about
Receives rental income you did not tell us about
Did not report the correct residence
We scheduled an interview for you to discuss this matter with us.
Please bring your Photo ID card, this letter and the following document(s):
Bring in proof of Identity and NYC residency
Birth certificate
Marriage Certificate
Mortgage documents
School letter
Income tax documents
Pay stubs last 4 pay stubs
Deed to property
Utility bills
If you need more time to find these documents or need to reschedule the interview, call the investigator.
IMPORTANT NOTICE
You can bring an attorney or another representative to assist you in resolving this matter. You can contact your bar association or a legal services organization to seek free legal representation in bureau of fraud investigation HRA.
You are entitled to interpretation assistance. Please let us know if you would like us to provide an interpreter in the language that you request.
You may answer questions or choose not to say anything. If you do answer questions, your benefits cannot be stopped or reduced just because you did not answer.
If our investigation finds that you were ineligible for benefits received, we may ask you to repay them. You do not have to sign a repayment agreement. However, if we do not come to an agreement, we may sue you in civil court to get back the amount owed or, in some cases, refer you for criminal prosecution.
You may still be eligible for certain benefits now even if you were not eligible in the past. If you would like to discuss your current eligibility for Medicaid or SNAP, you can go to your local Medicaid or SNAP office.
TRAVEL INSTRUCTIONS
(By Train) No. 1 to Franklin Street; A, C, E, to Canal Street; A, E, No.2 & 3 to Chambers St.
Our Office is located at 375 Pearl Street, 22nd Floor.
Do you have a disability or a health condition that makes it hard for you to understand this notice or to do what this notice is asking? Does this condition make it hard for you to get other services at HRA? Call us at 212-331-4640 and we can help you. You can also ask for help when you visit an HRA office. You have a right to ask for this kind of help under the law.
A letter like this can also come from 151 W Broadway, 7th Floor, New York, NY 10013.
If you think that the HRA Medicaid Fraud Division is investigating you for SNAP or Medicaid fraud, contact an attorney immediately.
——–
Albert Goodwin, Esq. is an attorney who helps people who got a letter from bureau of fraud investigation HRA negotiate with the investigators. He also represents clients in defending criminal charges associated with Medicaid and SNAP fraud. You can reach Albert Goodwin, Esq. at 718-509-9774.
Related Posts via Taxonomies