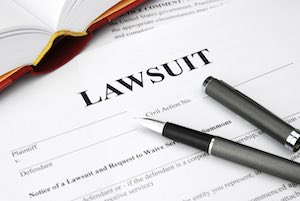 Getting sued can be stressful. You are served with a summons and other legal papers to answer a complaint, petition, or other initiatory pleadings, and you will need a lawyer to file your response or answer.
Some people think that if they ignore the summons, the problem will go away. Unfortunately, if you don't file your answer, the court will declare you in default, and the complainant or petitioner will be allowed to present evidence without your participation. The court will then promulgate a decision based only on the complainant's or petitioner's evidence. If this decision is against you and executed, you may find your bank account garnished or your wages withheld. If this has happened to you, you can still have the default judgment vacated.
You need to consult with a lawyer immediately because vacating a default judgment is subject to a time period, especially when you received a copy of the judgment. We at the Law Offices of Albert Goodwin are here for you. If you are getting sued, you can call us at 718-509-9774 or send us an email at attorneyalbertgoodwin@gmail.com.
The Beginnings of Getting Sued
Getting sued begins with a complaint, petition or initiatory pleading filed by a party against you. Once this is filed, the court will issue a summons, which will be served to you. Summons is a way for the court to notify you that a case has been filed against you. Properly serving the summons is an important part of due process in order for the court to acquire personal jurisdiction over you. In fact, you can question any proceeding that occurs after an improper service of summons due to a lack of personal jurisdiction.
There are generally three ways to deliver a summons.
The first and easiest way, called personal delivery, is for a process server to personally hand you the papers.
If the process server tries to effect personal delivery but fails, then he may resort to substituted service. Substituted service is effected by delivering the summons to a person of suitable age and discretion at your actual place of business or residence. A person of suitable age and discretion need not be an adult. However, the papers cannot be left with a child or someone who appears intoxicated or mentally impaired. The court has held that a responsible teenage babysitter may be a substituted person. Aside from leaving the legal papers with a substituted person, the summons must also be mailed to your last known residence or actual place of business.
If several attempts at personal delivery and substituted service have been attempted and still failed, the process server may leave the legal papers affixed to the door of your place of business or residence and mailing it.
If service is to be made upon a corporation, it should be received by an officer, director, managing or general agent, cashier or assistant cashier or any other agent authorized by appointment or law to receive service.
You can question the service of summons if you never got the papers for the case, the person suing you is the one who handed you the papers, the papers were left with someone who was not of suitable age and discretion, you only got the papers in the mail, you only got the paper on your door but not by mail, or you were given the papers on a Sunday.
What to do once you are sued and you receive a copy of the legal papers
Once you have been sued, it's important to consult a lawyer so you can file your answer. If you don't file your answer, a default judgment will be entered against you. Although getting sued is difficult, it is more stressful to receive a default judgment or worse, to receive an executed default judgment where your wages have been withheld or your bank account garnished. A motion to vacate the default judgment can stay the garnishment of your bank account or withholding of your wages.
Despite getting sued and having a default judgment decreed against you, you still have a remedy. You can have this default judgment vacated based on improper service of summons or excusable default. Under excusable default, you must show to the court that you have a good excuse for not filing your answer or missing your court date and that you have a meritorious defense.
Courts generally prefer to have cases decided on the merits, so they have been quite liberal in vacating default judgments. Ultimately, courts prefer that both parties have their day in court to litigate their issues.
Getting sued is stressful. However, you can alleviate this stress by making sure you have a good lawyer, like us, besides you to defend you from these complaints. If you are getting sued and you need assistance, we at the Law Offices of Albert Goodwin are here for you. We have offices in New York, NY, Brooklyn, NY and Queens, NY. You can call us at 718-509-9774 or send us an email at attorneyalbertgoodwin@gmail.com.