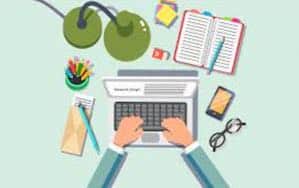 If you are curious to know what has happened to a relative, a long-lost friend, or a distant family member, you will probably want to know the research skills needed to find out if someone has died.
The internet
If you want to know if someone has recently died, the first thing you would search is the internet.
Search engines
Google is the best search engine to use. Write the name of the person and the city or state of the person's residence. This should provide you with a list of results to start your search.
Social media
Another way to know if someone has died is to check social media to review their online presence. Social media includes Facebook, Twitter, LinkedIn, and other similar networks.
Government Agencies
If the person died recently within the past 50 years, to obtain a death certificate, you need to prove your familial relationship. The death record is only available to the spouse, parent, child, or sibling. If you are not a family member, you will need a documented lawful right or claim, a documented medical need or a court order to obtain the person's death certificate.
Deaths in New York
If you are searching for someone who has died in New York, the first thing you need to know (or estimate) is the year of death. It would help if you also knew the village, town, or county where the decedent last resided and died. This will narrow your search and direct you to the proper place to begin your search.
Deaths after 1963
As previously mentioned, deaths that occurred in the last 50 years are only available to close family members who can provide proof of relationship to the deceased.
Deaths from 1957 to 1963
For deaths between 1957 to 1963, you can search the New York State Health Department's Genealogical Research Death Index in the Family Search website here: https://www.familysearch.org/search/collection/2285574
Deaths from 1880 to 1956
Beginning 1880, deaths were again required to be registered in New York with the State Department of Health. You can check the death records during this period with the New York State Archives here:
http://www.archives.nysed.gov/research/res_tips_001_vitalrecords.shtml
You can also check other online databases such as ancestry.com for death records.
Deaths from 1851 to 1879
Because of the law's failure in implementation, no death records were registered during this period. You can check alternative sources such as census, cemetery records, newspapers, church records, and probate records.
Deaths from 1847 to 1850
A law was passed in 1847 requiring doctors to report deaths. However, the law was not implemented well. Death records during this period are sparse, but you can search the Family Search Catalog at https://www.familysearch.org/search/catalog to see if there is a death record that has been microfilmed. You will need the surname and city, town, or county to complete your search.
Deaths before 1847 in New York
New York did not record deaths before 1847. If you are looking for deaths that occurred before this year, you need to check alternative sources such as newspapers, census, cemetery records, probate records, and tax records.
If you need your genealogy for probate purposes, we at the Law Offices of Albert Goodwin are here for you. We have offices in New York, NY, Brooklyn, NY and Queens, NY. You can call us at 718-509-9774 or send us an email at attorneyalbertgoodwin@gmail.com.