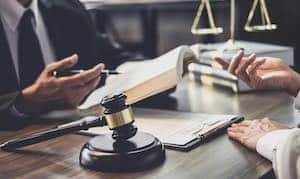 When you're faced with a legal problem, it's important to get a lawyer consultation.
There are two types of lawyer consultation: free consultation and the paid consultation. We will explain how each one works.
If you are looking for a lawyer consultation, we at the Law Offices of Albert Goodwin are here for you. You can call us at 718-509-9774 or send us an email at attorneyalbertgoodwin@gmail.com.
How a free lawyer consultation works
The free consultation is an initial consultation with a lawyer for both of you to assess whether the lawyer wishes to represent you based on the information you provided and whether you would like to hire that attorney to represent you for that particular matter. Rarely in a free consultation will you get free legal advice. During this lawyer consultation, you will know the lawyer's costs, the legal strategy for your case, and the outcome and timeline the lawyer expects. Free legal consultation is generally used not to get free legal advice but to determine whether the lawyer is the right one for you in this case.
To determine if a lawyer is right for you, you need to ask about some of the following:
Their legal background
Cases they have handled
Their legal strategy for your particular case (i.e., if they plan to attempt to settle, mediate or arbitrate, what are the steps they're planning to take)
The procedures to be expected in the case
Their expected timeline and outcome of the case)
Their work management (who will handle your case, whether he or a paralegal or a junior attorney will be the point person for the case, how often will you receive updates from him how fast does he reply to calls, emails, and text messages)
Their legal fees
A legal fee mostly depends on the type of case. It can be a whether it is a flat fee – usually for uncontested divorce cases where the procedures and timeline are predictable, contingency fee – usually for personal injury cases, or retainer's fee – which is a deposit fee on an hourly rate, usually for cases that require multiple court appearances.
Bring already documents that you feel are relevant to your case (i.e., summons, complaints, contracts, emails).
Beware of lawyers who overpromise.
Find a lawyer who you feel will care for your case and make it important to him, who you are comfortable with, who replies immediately to your messages, and who is able to gain your trust and confidence.
Ultimately, the most important factor in choosing a lawyer would be your trust and confidence in the lawyer.
How a paid lawyer consultation works
In a paid lawyer consultation, on the other hand, you will get legal advice. This is a paid hourly consultation where you can discuss your legal problem, and the lawyer will give you advice on your options, remedies, and other strategies. Most people try to think they can get away without a lawyer consultation when faced with a legal problem. In some instances, you could probably do it yourself with some help on legal advice. For example, in divorce, you may prefer to negotiate a divorce settlement with your spouse on your own, but you need confirmation on your legal rights in order to give you leverage in negotiation. A paid lawyer consultation, in this case, will help you in your negotiations.
In most major milestones in life, you need a lawyer consultation, such as but not limited to the following instances:
Before you sign a contract;
When purchasing real estate;
When you receive court summons;
If you sustained injuries because of the negligence of a third person;
If you slipped and fell in any commercial establishment and suffered serious injuries;
If you got into an accident while performing a job;
When a loved one dies;
When getting married or divorced; or
When planning your estate for death.
Should you need a lawyer consultation, we at the Law Offices of Albert Goodwin are here for you. We have offices in New York, NY, Brooklyn, NY and Queens, NY. You can call us at 718-509-9774 or send us an email at attorneyalbertgoodwin@gmail.com.