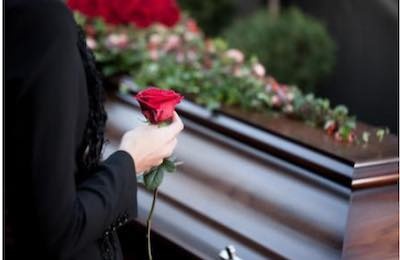 When a person you care about dies, it's a very sad time and you need to take your time to grieve and figure out what to do next. This page is not about the grieving process, it's about the legal and practical things that need to be done after their death. You may be the person who has to take care of their final affairs.
We often get calls and emails from people whose loved one has just passed on, who are not sure what to do next. If you need an attorney, you can call us at 1-718-509-9774 send us an email at attorneyalbertgoodwin@gmail.com.
For ease of explanation, we have assembled this day-to-day checklist of what to do when someone dies in NYC, which lists some of the typical things that you need to take care of following the death of your aunt.
This is not a precise checklist. It's just here to provide a reference point and an organizational device. We hope that it will help you make this process a little easier.
The First Day
Look for written instructions from the person who died regarding funeral and burial arrangements. Pay attention to any religious preferences.
If they wished to donate body parts and tissue, get in touch with a hospital.
Notify family and friends and delegate some responsibilities to them.
Find out if they belonged to a burial or memorial society that makes special arrangements for a funeral, such as a religious burial society or a military honor guard.
Contact a funeral home concerning burial or cremation arrangements.
Gather Information
Get the death certificate – you will need it for things like opening a safe deposit box and probating a will. Most funeral directors will help you get you multiple copies. You can order additional copies of the death certificate online at vitalcheck.com. Or you can apply for a death certificate by mail using this certificate application.
Complete the funeral and burial arrangements.
Notify the Social Security Administration and any other government agencies of the person's passing.
Gather all of your loved one's legal, financial, and personal documents. Make sure nothing is lost, and do not throw out any paperwork.
Make sure the decedent's computer remains in working order. Computers often contain important financial, legal and personal information.
Do not take any property, open safe deposit boxes, or pay debts until the court allows you to do so. After someone gets appointed by the court to be the estate's personal representative, that person can marshal the assets of the estate, pay attorneys, taxes, and creditors and then distribute the remainder to the decedent's heirs. Until somebody gets appointed by the court, it is not legal for anyone to make distributions of the decedent's property.
Life Insurance, Bank Accounts and Benefits
You can check if your loved one had an insurance policy. The New York State Department of Financial Services has a free-of-charge search service to assist families in locating unclaimed benefits on life insurance policies. Visit https://www.dfs.ny.gov/consumers/life_insurance/lost_policy_finder for more information.
Find out if there are any benefits available to a loved one's survivors. Contact Social Security, Workers' Compensation and your loved one's employer to see if benefits are available to surviving spouses or other family members.
Contact the decedent's bank and find out if you are a beneficiary on any of their accounts.
Start an Estate Proceeding
You may open the decedent's safe deposit box to get the will only. Only the person who is eventually appointed by the court to act on behalf of your loved one's estate will be allowed to take out the rest of the contents of a safe deposit box. That person has to account to the court for the contents of the safe deposit box.
If there is no Will, then the court will appoint an administrator. The administrator will distribute the assets of the decedent in accordance with New York state law of intestate succession – the court will decide who gets the estate.
If there is a will, you will need to bring the will to your County's Surrogate's Court. Call The Law Office of Albert Goodwin at 718-509-9774 if you need an attorney to assist you with the probate process.
The will usually nominates a Personal Representative (an Executor or Executrix). The Personal Representative will be responsible for collecting the property, paying off debts and distributing the property to the heirs of the person who passed on.
Carry Out Your Duties for the Estate
If you are the Personal Representative or Successor Trustee of a Trust, begin making a list of the assets owned by the person who died or the Trust.
Go through the financial, personal, and legal documents that you've assembled, and make an inventory of the decedent's assets and liabilities.
If you are a potential beneficiary, make sure the personal representative and trustee keep you in the loop. If you think that you are not getting your fair share of the estate, it might be time to challenge the person handling the estate.
Open a separate bank account for the estate. Keep a record of all transactions on that account.
Update the inventory of the decedent's assets.
Look for insurance policies or annuities which may continue for other family members.
Contact the decedent's life insurance company and follow their process for collecting life insurance proceeds. Deposit the process into the estate account that you've opened.
If the decedent owned real estate in a different state, you might have to start an ancillary proceeding in the state where the property is located. You may have to do this in more than one state.
It might not be a good idea to cash out IRA accounts right away, or you may lose substantial tax advantages. Consult a New York estate lawyer first.
Annuities, pensions, and profit-sharing plans may provide for payments to the decedent's spouse or other relatives. You need to consult those plans for details.
If the person who died was a partner in a business, check for the existence of buy-sell agreements that allow the partners to purchase the decedent's share of business from the estate.
The personal representative needs to pay the creditors of the decedent before they can distribute the estate to the beneficiaries. Otherwise, the personal representative may have a problem – being personally liable to the creditors.
The personal representative is required to give notice of the proceeding to all of the decedent's family members, even if they will not receive anything from the estate.
You will need to file IRS Form 1040 and pay the decedent's last income tax. If there is a Trust, you will need to file a "Fiduciary Income Tax Return," IRS Form 1041.
If the person who died left minor children, the guardian named in the will must assume care of the children. If the decedent did not appoint a guardian, the court will.
Watch out for con artists who prey upon vulnerable families in their time of distress. Some fraudsters look for death notices and make unfounded claims against the estate. Some may even attempt to burglarize the home during the funeral service. Be cautious about such matters; perhaps have someone stay at the home during the funeral service, and do not easily accept the claims of unknown individuals that lack documentation.
If there is a surviving spouse, make sure the surviving spouse or children collect veterans' benefits or other "joint and survivor" benefits.
After the personal representative completes their duties, they can ask the court to discharge them from the commission.
This is not an exhaustive list, of what to do when someone dies in NYC, nor is it an attempt to provide detailed instructions. Rather, it is assembled for educational and informational purposes only. It is possible that an important factor that pertains to your specific situation is not addressed here. Our condolences for your loss.
If you recently lost a loved one, we at the Law Offices of Albert Goodwin are here for you. We have offices in New York, NY, Brooklyn, NY and Queens, NY. You can call us at 718-509-9774 or send us an email at attorneyalbertgoodwin@gmail.com.
Law Offices of Albert Goodwin
Average rating:
1 reviews
Dec 24, 2018
This is a great lawyer, helped me every step of the way