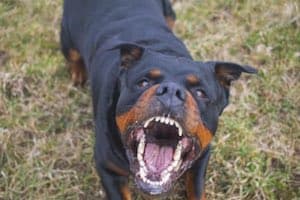 Dog bites occur frequently. In the United States, there is 4.5 million dog bite victims each year, though only a few have filed and litigated their claims for injuries. In New York City alone, there are over 500,000 dogs. Although the vast majority of these dogs are not dangerous, Rottweiler bites are still quite common. If you have been bitten by a Rottweiler, consult with a Rottweiler bite lawyer to know your remedies. Rottweiler bite lawyers will accept your case on a contingency basis, especially when your injury is severe and the Rottweiler owner has a homeowner's insurance policy.
Dog bite laws
If a dog bites you, the dog owner is strictly liable to pay for your medical bills associated with the dog bite, if the dog is a vicious dog. This strict liability means that the dog owner has to pay your medical bills, whether or not he was negligent. The gravamen of the offense is the knowledge of the dog owner that the dog was possessed of vicious or mischievous propensities. Nardi v. Gonzales, 165 Misc.2d 336 (1995).
What is considered a vicious dog?
A vicious dog is a dog that has a vicious propensity, i.e., a Rottweiler with a tendency to do an act that might endanger another. Usually, vicious propensity can be found when a Rottweiler previously attacked and injured or killed a person, pet, or farm animal without justification, or currently behaves in a way that would cause a reasonable person to believe that the Rottweiler poses a serious and unjustified risk of serious injury or death.
If you want to recover additional damages in excess of your medical costs, such as emotional distress or lost wages because of your medical condition, you need to show negligence, such as:
The owner was negligent in controlling the Rottweiler, and this negligence caused the dog to bite you; or
The owner knew or reasonably should have known, that his Rottweiler was dangerous and had a history of vicious propensity.
Reasons for not filing claims against the Rottweiler owners
Most Rottweiler bite victims don't file claims against the dog owners because these dog owners are usually their friends, their neighbors, or a distant family relative. However, you should not let this relationship get in the way of receiving compensation for your injuries. Most dog bites will be covered by the homeowner's or renter's insurance policy. Your Rottweiler bite lawyer will likely negotiate with the Rottweiler owner's insurance company and not with the dog owner himself. Usually, Rottweiler bite lawyers will accept your case on contingency if the Rottweiler owner has appropriate insurance that will cover the claim. If there is no insurance coverage, making your claims may be expensive and illusory.
Things to do when you have been bitten by a Rottweiler
When you have been bitten by a Rottweiler, it is important to do the following things to ensure that you are successful in your claim with the insurance company:
Get the names and addresses of the dog owner, the person who was in control of the Rottweiler when the dog bit you (the dog custodian, if different from the dog owner), and witnesses who saw the Rottweiler bite happen. If you are unable to do this because you need medical attention immediately, take note of the people around you and have a friend or family member get this information for you.
Request from the Rottweiler owner a copy of the dog's rabies vaccination records and the policy booklet containing their homeowner's or renter's insurance information. This policy booklet should contain the Rottweiler owner's name, address, and monetary limits of the coverage.
Get the dog license information, information regarding any prior dog bite history of the Rottweiler, and prior notice of the viciousness of the Rottweiler on the landlord or property owner's part.
Take photographs of the incident. This includes photographs of your Rottweiler bite wound and the environment where it happened. Check if there are any "beware of dog" signs or note the lack of such signs. Take a video of the place where the Rottweiler bite happened so you and your lawyer can have a good idea of where you and the Rottweiler were positioned, which could reflect any possibility of negligence on either side of the parties.
Go to the doctor and get medical treatment. Keep all the receipts, including receipts for medicine, so you have proof of your medical costs. If you were bitten on the face, request a plastic surgeon's quote to remove any scar on the face caused by the Rottweiler bite.
Go to the nearest animal control agency and file a report. They will investigate the incident and make their own report.
Get a Rottweiler bite lawyer to represent you in your claims with the insurance company. If the insurance company calls you, ask for its name, address of the adjuster's office, phone number, claim number, name of the insured, and the amount limitations for liability and medical expense coverages. Getting a Rottweiler bite lawyer for legal representation is important because studies show that you will receive a lower offer if you are not represented by legal counsel.
Who can be liable for a Rottweiler bite?
The most common person liable for a Rottweiler bite is the dog owner. The Rottweiler custodian, the person in control of the dog at the time of Rottweiler bite, if different from the Rottweiler owner, can also be liable for the medical bills of a Rottweiler bite victim of a dangerous dog.
The landlord or property owner may be held liable to a Rottweiler bite victim for an attack made by a tenant's Rottweiler under premises liability if the landlord had notice of the dog's presence on the property, its viciousness, and that the landlord had control of the premises or the capability to remove or confine the dog. Amell v. O'Leary, 2007 NY Slip Op 31934 (2007).
Damages you can claim for a Rottweiler bite
You can claim economic and non-economic damages for a Rottweiler bite.
Economic damages refer to the actual costs you incurred to heal and restore your body from a Rottweiler bite, such as medical costs, transportation costs to the hospital, loss of income in the past, loss of the ability to earn money in the future, counseling expenses, and other out-of-pocket costs that you incurred because of the accident.
Non-economic damages are intangible in nature and refer to mental anguish and suffering, humiliation due to a scar caused by the Rottweiler bite, or loss of quality of life.
In exceptional cases, you may be able to also get punitive damages.
Defenses of the Rottweiler owner
A Rottweiler owner can raise several defenses in a claim for damages arising from a Rottweiler bite. The most common defenses of a Rottweiler owner against a Rottweiler bite victim are:
Trespassing. If you are entering another person's property without the consent of the owner (or legal possessor of the property), you are considered a trespasser. You may not be permitted to recover damages for a Rottweiler bite that occurred while you trespassed on someone else's property.
Provocation. If you provoked the Rottweiler before the bite occurred, such as slapping, hitting, or threatening the Rottweiler aggressively, you may not be able to recover damages.
Comparative negligence. In certain instances, the Rottweiler owner may raise the issue that you were also negligent and your negligence caused the Rottweiler bite.
Assumption of risk. The owner may argue that you assumed the risk of being bitten by the Rottweiler. For example, if the owner's premises contained many "beware of dog" signs, and yet, you disregarded these warnings, the court may say you were comparatively negligent by a particular percentage and reduce the total award in proportion to your negligence.
The two possible scenarios when you have been bitten by a Rottweiler
When you have been bitten by a Rottweiler, your Rottweiler bite lawyer will assess your situation using two scenarios: whether you can claim from the dog owner's insurance or not.
When the liable party has insurance
When the liable party has insurance (usually homeowner's or renter's insurance), you can file a claim with the insurance company. File your claim as soon as you can, but do not settle until you are sure about your damages. A settlement will preclude you from getting more, even if your Rottweiler bite later turns more grave or fatal and will require more medical attention and costs.
Getting a lawyer to file your claim is advisable because studies show that insurance company offers more to those claimants who are represented by lawyers. A lawyer will also be able to gather the correct documentation to ensure that you have a strong case.
The Rottweiler bite lawyer will also know whether the insurance company's offer is too low or within the standard. If it is too low and does not even cover your medical costs, you may have to sue. Usually, after suing, parties will settle rather than go through the expensive process of discovery and trial.
In this case, the process will take between two to eight months, depending on the complexity of the case, the skills of your Rottweiler bite lawyer, and the congestion of the caseload in the courthouse.
When the liable party has no insurance
When the liable party has no insurance, you only have three options: to settle, to be reimbursed for your actual costs, or to file a case. Rottweiler bite lawyers will usually not accept a case on contingency if the claim is not covered by insurance.
In this case, you will have to weigh the pros and cons, including the costs of filing a lawsuit. You will have to determine whether the liable party can afford to pay the damages when a court awards it in your favor. When you receive money judgment, you can request for garnishment from the liable party's wages or request his bank account to be frozen. But legal costs can also be expensive. For this reason, it is important to weigh and calculate your options.
Serious injuries in Rottweiler bites
When you have sustained serious injuries in a Rottweiler bite, you need to consult with a Rottweiler bite lawyer immediately. These serious injuries are: bite to the face, bite to the genital area, bites that require stitches, bites that caused a broken bone, bites that resulted in significant tissue injury, bites that required an overnight stay in the hospital, bites that resulted to brain trauma, bites that caused a permanent bruise, or bites that caused a visible, significant scar.
Liability if the victim is another dog
The Rottweiler owner can also still be liable if the Rottweiler bite victim is not a person but a dog. Nardi v. Gonzales (supra). Damages may be computed differently, and certain damages cannot be claimed, such as lost wages.
Period to file a lawsuit
You usually have 3 years from the time of injury to file a lawsuit against the liable party. Despite this prescribed period, you don't need to wait long to file your claim. The earlier you file your claim, the better. The memories are fresh in your mind and in your witnesses' minds about how the Rottweiler bite incident happened.
Rottweiler bites can result in serious physical injuries. It is important to consult with a Rottweiler bite lawyer so he can evaluate your case and provide advice on your possible remedies. Should you need assistance, we at the Law Offices of Albert Goodwin are here for you. We are located in New York, NY. You can call us at 212-233-1233 or send us an email at [email protected].