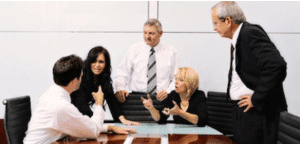 Asking what does a business lawyer do can be a loaded question sometimes. This is because a business owner faces a myriad of issues that normally is not limited to just one practice of law. A business lawyer needs to be comfortable in being well-rounded – whether it's providing advice on the type of entity to be formed, negotiating a commercial lease contract, registering a copyright or trademark, drafting contracts with external parties such as customers, suppliers, employees, or drafting internal contracts concerning shareholders, founders, and bylaws.
Business Formation
At the outset, the business owner should consult with a business lawyer on what type of entity should be formed and whether there are special licenses or permits required to operate in his desired industry. The business lawyer should counsel the business owner on the types of legal entities available (S corporation, C corporation, partnership, limited liability company, professional service corporation) and provide advice on the advantages and disadvantages of forming the entity in New York or Delaware. Giving careful consideration on deciding the type of business entity to be formed can save the business owner thousands of dollars in the future because of its different tax and cost implications.
Corporate Governance
The business lawyer can also help the business owner in drafting shareholder agreements, partnership agreements, or bylaws. Clearly setting out the responsibilities and expectations among the founders sooner rather than later is always better, because once the business starts earning (or losing) money, people's recollection of the terms and conditions of the deal change fast. The business lawyer can also assist in corporate secretarial services, sending notices for directors and shareholders meetings, preparing the minutes, records, consents, and resolutions.
Contract Writing, Review and Negotiation
The business lawyer should also be adept at drafting, reviewing, and negotiating contracts. This becomes handy when template contracts are needed for customers, suppliers, employees, investors, creditors, independent contractors, landlords, tenants, and other third parties. Reviewing contracts is also essential so the business lawyer can advise the business owner on any red flags in the contract and making proposed changes that will be for the best interest of the client. Likewise, business owners can do the negotiations themselves and hand it over to the attorney for drafting, while others prefer that the attorney handle negotiations, giving the attorney the authority to negotiate within a certain set of parameters and limitations.
What Does a Business Lawyer Do Regarding Intellectual Property
Some businesses require trademark and copyright registration, while some need assistance in enforcing their intellectual property rights. The business lawyer can support the business owner by providing advice on the preservation of intellectual property, when third parties are licensed or allowed to use such property, and will prepare and review contracts with license agreements or intellectual property assignment and transfer agreements.
Real Estate
Whether it's the first time for a business owner to lease commercial space or they are renewing their commercial lease, business owners should consult attorneys because they might have more leverage than they realize. Getting an experienced attorney to evaluate and negotiate their lease might save them hundreds or thousands of dollars in rent.
Disputes and Breaches of Contract
Disputes and breaches of contract happen, even in the ordinary course of business. Before it escalates to costly litigation, the business owner should consult with an attorney on his possible remedies and find ways to always amicably settle through negotiation, mediation, or arbitration to avoid expensive litigation. If litigation is necessary, the business lawyer should be prepared to appear in court for the matter.
Above are just a few skills that a business lawyer should have. Small businesses cannot afford to make expensive mistakes. If in doubt, it's better to consult an attorney who can help you and be flexible with his fees in order to ensure that your business will keep growing and thriving.
If you are looking for a business lawyer, consider the Law Offices of Albert Goodwin. We can be reached at 718-509-9774 or 718-509-9774.