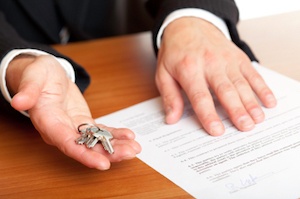 Some of what a commercial real estate lawyer can do is provide expertise in handling sales and purchase agreements between buyers and sellers, navigating landlord/tenant relationships, litigating real estate disputes, and assisting in the development of real estate.
Commercial real estate , in particular, whether leasing, purchasing, or developing, is a major investment, costing more than in other parts of the country. For this reason, it is important to bring in an lawyer at the beginning of the process in order to avoid mistakes and save more in the long-term.
Sales and Purchase Agreements
A commercial real estate lawyer should have experience in representing both buyers and sellers.
For buyers, although prices are normally fixed or negotiated between the seller's and buyer's agents, an lawyer can investigate whether the prices and other charges are justified. For example, if the unit is listed as a four-bedroom, but one of the bedrooms does not comply with the legal requirements (i.e., no window), the buyer can negotiate a price cut. What the commercial real estate lawyer can do is assist the buyer who is still interested in purchasing a property with structural issues, with an annotated lien on the title, or located in a flood or tornado zone. If the buyer seeks to purchase real estate property with one or more persons, what the commercial real estate lawyer can do is draft joint tenancy or tenancy in common agreements to outline the relationship among co-owners in order to prevent potential disputes. Other things that a commercial real estate lawyer can do are the review and negotiation of the contract of sale, review of underlying leases, preparation of lawyer opinion letter for the lender, explanation of the real estate contract and mortgage commitment to the buyer, reviewing offering plans, meeting minutes, and financial statements for the purchase of condos and co-ops, title examinations (title and lien searches), computing tax liabilities, and verifying whether there are unpaid real estate taxes or liens, to name a few.
What a commercial real estate lawyer can do is help resolve issues of sellers facing unique circumstances such as uncancelled liens, selling properties with an existing lease, or selling one's interest in a property co-owned with others. Other services for sellers involve assistance in cases of the buyer's breach of contract, such as failure to have adequate funds for the contract deposit, failure to tender the balance of the purchase price, failure to participate in good faith with pre-closing contingencies, or willful default under the contract.
In a purchase and sale agreement, a commercial real estate lawyer will know, based on experience and standard practice, what's reasonable to ask for, what's reasonable to insist upon, and what's not open for negotiation, for the benefit of his client.
Landlord/Tenant Disputes
A commercial real estate lawyer should explain to the lessee the provisions of the lease contract, especially when it's long and written in legal jargon. These include provisions on good guy guaranties, real estate tax escalation, and sublet and assignment clauses. When representing the lessee, the lawyer should negotiate for the most flexible good guy guaranty in order to protect his client's assets. Good guy guaranties require owners of limited liability companies who don't have a long financial track record to be personally liable for rental payments and other obligations. When needed, what a commercial real estate lawyer can do is file a "Yellowstone" injunction, which allows a commercial tenant to enjoin the landlord from evicting him for an alleged breach of the lease.
When representing landlords, the commercial real estate lawyer should structure leases, taking into consideration the landlord's objective of getting a rent-paying tenant without an extensive negotiation of contracts. The lawyer will assist in cases of lessee's nonpayment, holdover beyond the period of the lease, and breaches of lease involving a wide variety of claims. With the cooperatives and condominiums, what a commercial real estate lawyer can do is protect the landlord's rights in case of faulty construction and misrepresentations in offering plans.
What does a commercial real estate lawyer do in litigation
What a commercial real estate lawyer may also do is represent his client in real estate dispute litigation, arbitration, and administrative hearings. Common types of real estate litigation include the enforcement of purchase agreements, non-disclosure of defects, actions to quiet title, easement disputes, disputes with real estate agents and brokers, foreclosures, mechanic's liens, and commercial lease disputes. Depending on which side he is on, the commercial real estate lawyer should be well-versed in the different causes of action, its elements, and the defenses available. Currently, there is a move towards arbitration and mediation, and the skilled lawyer represents his client in order to achieve a win-win solution for everyone and avoid protracted litigation.
Development of Real Estate
The commercial real estate lawyer should be able to advise developers of mixed use, residential, and commercial developments on the basics of getting a development project entitled, permitted, financed, and built. This includes a variety of topics such as operating, shareholder, and partnership agreements, LLC formation for real estate development, preparation of documents for mortgage-based lending, financial arrangements for raising capital, zoning, land use, and municipal matters, economic development incentives, tax-related matters including tax benefit programs, and construction issues.
If you are looking for a commercial real estate lawyer, consider what we at the Law Offices of Albert Goodwin can do for you. We can be reached at 718-509-9774 or 718-509-9774.